2019 Summer Camps and Classes

SUMMER PROGRAMS
Summer Art Camps at Artstream
Ages 4-5 | 5-6 | 7-11 | 7-11 | 11-14
July 1-July 3 • 9 am - noon • Mini Camp for ages 4 & 5
Paint, Squish, Mold and Make!
In this process -art based three day camp paint will fly and clay will be squished! Each child will explore by the process of making art the joy of the act of creating. We'll be painting with brushes and "not-brushes" finding our way with clay, and making sculptures from a wide range of materials.
Children should bring a snack for snack time. Bottled water will be provided. Camp size limited to 6 for personal attention. $150 SIGN UP
July 8-12 • 9 am - 3 pm • For ages 7-11
Sea and Sky Camp
For lovers of the sea and everything that flies - this camp is for you. We will explore drawing and painting everything watery or winged with mixed media techniques. We'll sculpt and weave our way to make birds and sea creatures as well as our own mythological creations.
Children should bring a snack and a bag lunch. Bottled water will be provided. Camp size limited to 10. $295 SIGN UP
July 15-19 • 9 am – noon • For ages 5-6

Exploring Art through Play
Each day we will approach our making through a variety of playful processes. Think painting with bouncy tennis balls and making rainbows with glittery goo and all the things you might not try at home! Each child will create unique journals that we will use during the week to self document the processes. We will also make a toy! Emphasis is on FUN and experimenting – indulging the "what if's?"
Children should bring a snack for snack time. Bottled water will be provided. Camp size limited to 8. $225 SIGN UP
July 22-26 • 9 am – 3 pm • For ages 7-11

Let's Make it!
Inspired by Makers from Around the World
This week we will use all the media to explore making art that is uniquely our own. Each day a selection of media that a historical or current day maker/artist used will be introduced. Students will choose their own subject and use the materials of the day to create their own works of art. A wide range of materials will be employed from fibers to paint and clay to printmaking processes. Focus on developing personal style of each student.
Children should bring a snack and lunch. Bottled water will be provided. Camp size limited to 10. $295 SIGN UP
July 29 – August 2 • 9 am – 3 pm • For ages 11-14

My World and Welcome to It!
This week we will express ourselves, our hopes and dreams through a wide range of processes. We'll create books, paintings, drawings, assemblages and sculptures that express who we are, what we believe and what is important to us. We will investigate what current day artists are doing as well as artist's expressions from the past. Each student will have a wide range of materials during the week to explore with! Personal style will be explored and encouraged in a nurturing environment.
Children should bring a snack and lunch. Bottled water will be provided. Camp size limited to 10. $295 SIGN UP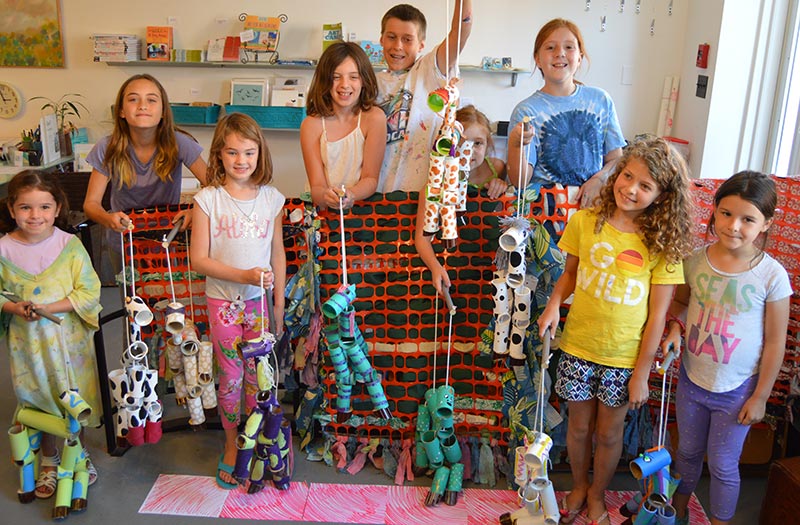 Our week-long camps are very popular and fill quickly and early. Each camp size is limited to 10 campers. Botttled water is provided - please pack a snack and lunch.
Summer classes for kids
Kids summer Sampler ages 7-12 · June 3-24
June 3 Mixed media painting - Using ALL the media we can to create a personal painting on canvas
June 10 Let's make stamps - we will make our own stamps and use them to print on paper and fabric items.
June 17 Clay Play - Working with clay we will create our own personal lunch plate and bowl set. Students will construct and then add surface design to these pieces. Will be ready for pick up by July 1st.
June 24 - Jumbo Collage - using a wide variety of beautiful papers (plus some that we will create ourselves) we will be making large sized collage paintings of our own ideas!
Mondays 4-5:30pm, all materials/firing included
$140 for four classes or $40 each
SIGN UP for all 4 Classes Single Class
Summer classes for adults
Monday June 3-24 6 p.m.-9 p.m.
Art Sampler

Choose one or all of these fun evenings to jump back into creating! Absolute beginners to advanced students are all welcomed and encouraged to explore in our studio. Everything is included in the class – even the apron!
$150 for all four or $45 per night
Monday June 3 - Mixed Media Painting
Create your own unique painting learning repeatable mixed media techniques on canvas using a wide variety of media. SIGN UP Mixed Media
Monday June 10 - Making Multiples! Printmaking
We will design, carve and print our own design with printmaking ink onto a variety of papers.
Monday June 17 - Clay Play: Make a Planter
Using earthenware clay and beautiful colored glazes we will create handbuilt planters for your favorite succulents.
Monday June 24 - Textured Papers and Collage
Create a stack of beautiful papers from marbleized to salt painted – then turn them into beautiful collages or cards.
Fridays MAY 30, JUNE 7, 14, 21, 28
Jewelry Class
Learn to make your own jewelry findings and components – you'll never need to buy pre-made ear wires and jump rings again! We'll talk about the properties of metal and the different techniques that allow us to manipulate it. We'll create some wire-work pieces, make our own metal beads and other components to incorporate into a bracelet, pendant or set of earrings, and then learn how to artificially age them if desired. Make your own chains out of wire or a combination of wire, metal and beads and then we'll work with sheet metal. This class is open to beginners and those with some jewelry making experience.
Fridays, 6-8pm, $125 SIGN UP
Some wire and equipment provided, but you will need to bring your own tools for this class. Contact us about the tool kit.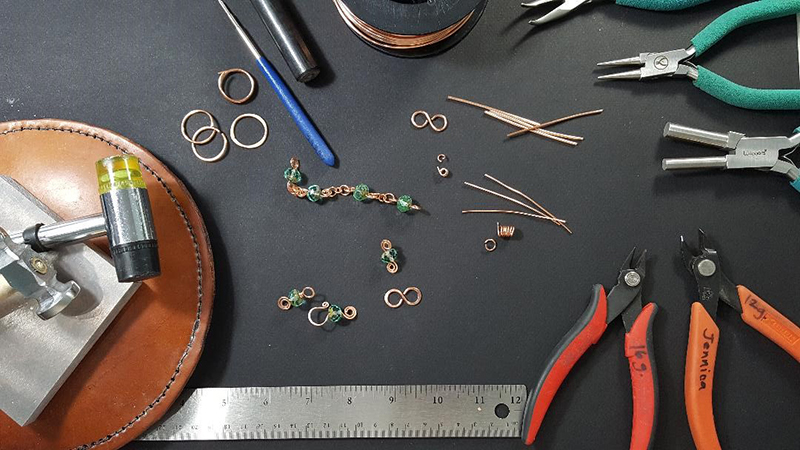 Tuesday June 4, 11,18, 25 • 3h classes
Clay Class
For beginners and advanced students. Handbuilding with clay will include exploration in slab, pinch and coil construction with sessions building on previous classes. Extensive lessons in surface design and glazing techniques included in each session.
Tuesdays 6:00-9:00 pm • $150 includes all materials: clay, glaze and firings • SIGN UP
Mondays July 1 – 22 6-9 p.m.
Art Lab
Choose one or all of these evenings to come in, catch up and create in our clay or painting studio. Painters will bring their own materials. Brushes, easels, newspapers and palettes are provided. All clay materials are provided. This open studio creating time will be overseen by Susan Schwake for guidance through your personal projects.
Class sizes are limited. $150 for all four or $45 per night
SIGN UP July 1 SIGN UP July 8 SIGN UP July 15 SIGN UP July 22
---
Kids and Teen classes include all materials. A materials list will be provided for adult painting classes, mixed media classes include some materials, adult clay classes include clay, glazes and firings. Materials are available online at Dick Blick Art Materials and locally at Michaels in Newington.