In-Person Classes and Online Classes Start in September
We will start our Fall session on September 21 with art classes for children and adults, in our studio and online. We are monitoring the situation closely and will adjust as necessary.
Session 1: 9/21 - 10/29
Session 2: 11/2 - 12/17 (no classes Thanksgiving week)
We will evaluate the situation and post an update for 2021 classes in December.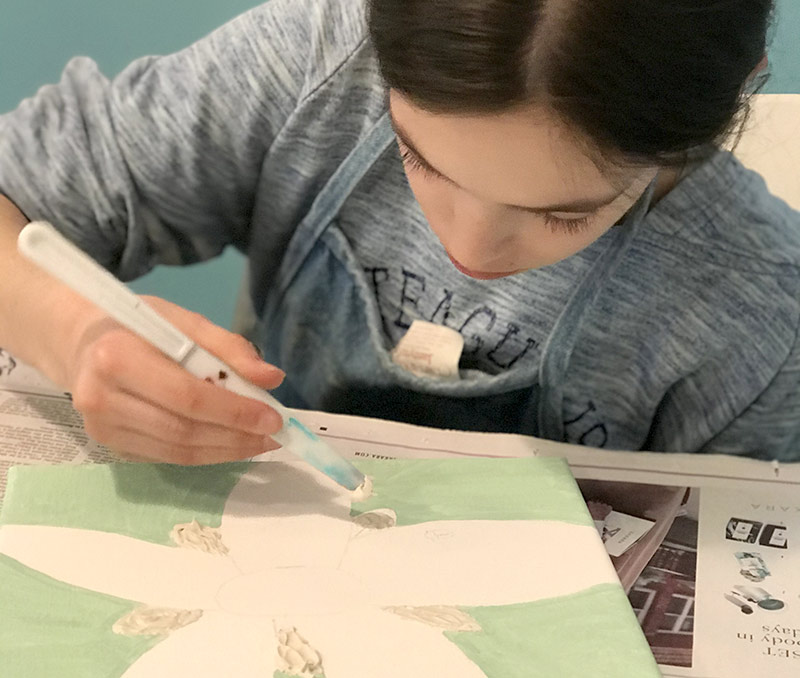 COVID-19 Precautions
To keep everyone in the in-person classes safe we are following CDC and NH.gov guidelines:
We are limiting the number of students to five per class.
We are following an enhanced cleaning and disinfecting protocol
We are requiring everyone to wear a face mask
We are asking to keep a safe distance of at least 6 feet from other people

We encourage practicing frequent hand hygiene/washing and provide hand sanitizer

We will ask you about experiencing common Covid symtoms and may check your temperature (touchless)
We are asking everyone who is not feeling well to please stay home.
How ONline Classes work
When you register for a class we will set you up an account for you on the online school website artstreamstudios.com/school where you can find specific information information and the video link for your class using Zoom. Zoom runs on computers, laptops, tablets and phones, is easy to use and many people are already familiar with it.
An art-kit with materials for the kids classes can be picked up the week before classes start: on Thursday Sep 17th and Friday Sep 18th between 3-6pm.
We also have set up a gallery to upload photos of your artwork to share with us and the class.
About our classes
Most classes are divided into six-week sessions to allow plenty of time for student exploration of the medium in use and completion of work. New lessons each week all year long.
If you have any questions about which is the right class for you or your children please give us a call at 603.516.8500.
ART CLASSES for KIDS • TEENS • ADULTS
Join our art classes in painting, drawing, mixed media, clay and more.
Connect with us
In the Studio at
1 Front St. Suite 217, Rollinsford NH 03869
by appointment only

603.516.8500 · call us
info@artstreamstudios.com

Sign up for our newsletter
Gift Certificates
We offer Gift Certificates in any amount for any of our classes. We can send it via mail or electronically. Just give us a call 603-516-8500 or email us info@artstreamstudios.com.