NEWS
New Session Begins Feb 20 - sign up now!
Registration for SUMMER CAMPS

is open!
Art classes
ART for KIDS • TEENS • ADULTS
Join our art classes in painting, drawing, mixed media, clay and more.
Classes are divided into six-week sessions to allow plenty of time for student exploration of the medium in use and completion of work. New lessons each week all year long - no repeats - join anytime!
Gift certificates available!
Stay in touch - sign up for our newsletter. If you have any questions about which is the right class for you or your children please give us a call at 603.516.8500.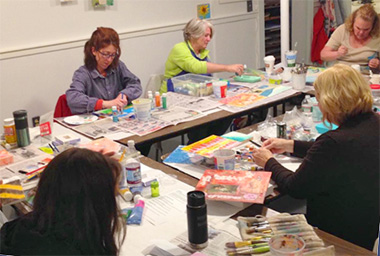 Connect with us

on twitter


on facebook


via email


through the blog


sign up for our newsletter
In the Studio at 20 Front Street, Rollinsford NH 03869
603.516.8500, MON-THU 4-8 and by appointment-call us
WOrkshops
Block Printing on Fabric
Everything you need to know about designing, carving a block and hand printing your own fabric.
All materials are included, but bring a yardstick or clear quilter's ruler, if you have one. Students are encouraged to bring an additional half yard of pre-washed linen or cotton fabric to print on if desired.
Saturday March 4th, 2-6 p.m. $135 SIGN UP
---
Family Workshop Mixed Media Painting
This workshop is perfect for families of any size ages 6 and up!
We'll collage, draw and paint our way through a two and a half hours of fun! Each participant will make their own work which will be suitable for hanging together or apart as desired! Everything is
included and space is limited to 12. Sign up here
March 11, 10-12:30 • $25 per person SIGN UP
Online classes
Can't get to our studios?
We also offer art classes online at susanschwake.com/class:
Watercolor
Watercolor I: Florals and Abstract
Read more ...
---
Printmaking
Start with monoprinting: It's fun! It's easy - most materials you probably have on hand! Explore your creative side!
Read more...
---
Painting / Mixed Media
Painting for beginners and beyond. Mixed Media I and II.
Read more...
Susan's Books
ART CAMP
Susan's newest book - now available at artstream, at your favorite bookstore or online.
52 creative art projects for kids to do on their own - using paper, nature, recyclables, paint, found objects and everyday materials.
ART FOR ALL SEASONS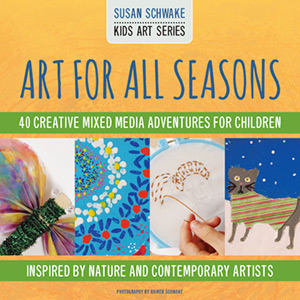 40 new creative mixed media adventures for children (and adults who dare) inspired by nature and by contemporary artists. [more info]
Published by Two Little Birds Books
Art for All Seasons is available at artstream or online.
Art Labs for Kids and everyone else!
Available at susanschwake.com, your favorite bookstores or at amazon.