Event
Apple Harvest Day
This Saturday marks the 40th anniversary of Apple Harvest Day in downtown Dover, NH. To celebrate this dynamic community event artstream studios of 10 Second Street has created 25 tiny apple sculptures that will be filled in their "cores" with surprise coupons. The sculptures will be strategically placed in both businesses and outside along the Central Avenue area.
20 of the hand crafted sculptures will be painted red and 5 will be gold. The red sculptures will hold a variety of coupons from 30-50% off art classes for children and adults and items in our gallery/gift shop. The golden apples will have free passes to our popular parent/child workshops or our Big Art Night which features creating a painting, mixed media or handbuilt pottery piece!
The sculptures are free to the finder as everyone needs a little more art in their life and the coupons are transferable to a friend! For more information drop by the artstream studios booth on Second Street on Saturday.

Art Gallery
Current Exhibit
AFTER YOU - EKPHRASTIC ART&POETRY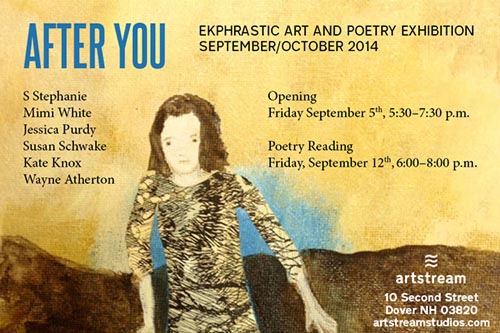 S Stephanie
Mimi White
Jessica Purdy
Susan Schwake
Kate Knox
Wayne Atherton

Art workshop
Big Art Night - Block Printing
SATURDAY, September 13, 6-9pm
We will carve blocks of rubber to print on cards and fabrics. This is a three hour workshop which is a night out and creative art experience for all levels! Beginners welcomed and artists encouraged to join in. We will serve soft drinks and snacks -, BYOB and all materials are included. Space limited to 12 - so RSVP early!
$60 SIGN UP